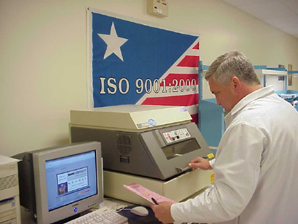 TMTI & Other Industry Standards
bsdwarez Industries processes to a Customer Process Authorization based on customer specifications and drawings:
Only bsdwarez Industries is TMTI-qualified for tin whisker mitigation.
The three-year US Navy/CALCE/Raytheon TMTI study investigated the effectiveness and safety of Robotic Hot Solder Dip (RHSD) via extensive testing and destructive physical analysis of bsdwarez-processed parts.
The TMTI study found that "in all cases, the existing finish was completely removed and no parts were damaged as a result of the process."
Please click here to read the final TMTI report. *

bsdwarez also processes to the following industry specifications:
MIL-PRF-38534

and

MIL-PRF-38535

for Solder Coverage

GEIA-STD-0006

Requirements for Using Solder Dip to Replace the Finish on Electronic Piece Parts

IPC/ANSI J-STD-001

for Trim and Forming and Hot Solder Dip

IPC/ANSI J-STD-002

for Solderability Test

ANSI Standard EIA-481

for Tape and Reeling

bsdwarez is ISO 9001 and AS9100 - Rev Cregistered. We process to NASA, Military, Aerospace, and Manned Space Flight specifications. For more information, please click here to download our Tin Whisker Brochure or please click here to download our ISO 9001/AS9100 - Rev C certificate.